WHAT IT DOES
Contacts Management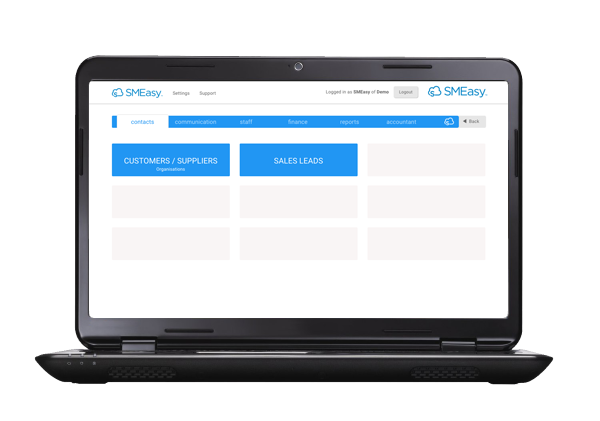 Easy online access to your business contacts at any time.
All customer information is filed in one central place so easily available to you and your team.
Customer contact details automatically pull through when you do quotes and invoices.
Information is always backed up, so there is no loss of important contact information if your phone or laptop is stolen.
Staff Payroll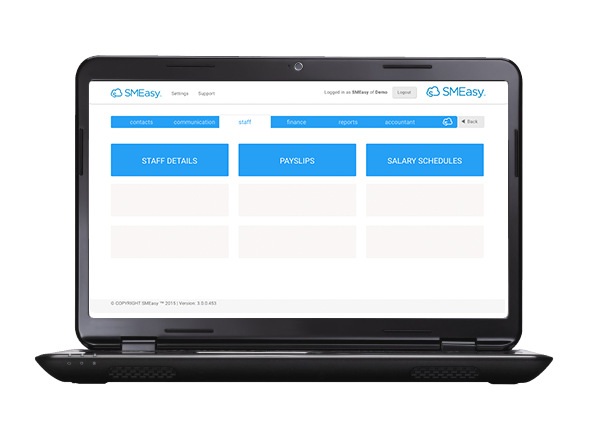 Easy capturing and storage of all staff information.
Payslips that have your company logo on them.
Simple monthly salary schedule showing all salaries and tax due.
Schedule per staff member with their salary information (IRP5 information).
SMEasy makes SARS-compliance easy.
Money Management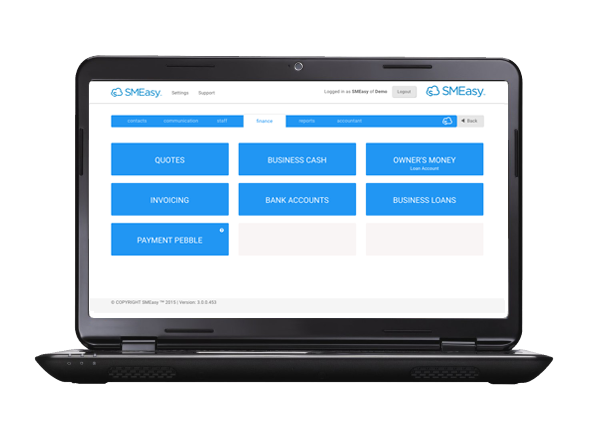 Easy quote and invoice generation with your company logo.
Can create a pricelist for quotes and invoices.
Can convert quotes to invoices.
Manages all cash coming into and out of the business.
Manages all the owner's money put into, or taken out of, the business.
Can import bank statements from all major banks and select relevant income or expense items from an easy drop-down menu (no accounting terminology used).
Business Owner Reporting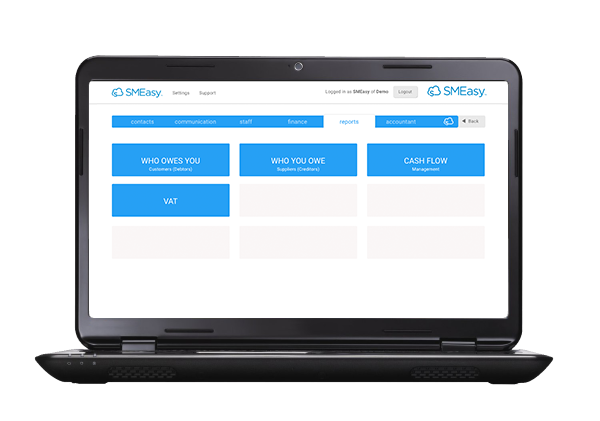 Simple reports that the business owner understands.
You can see who you owe (your suppliers) or who owes you (your customers) at the push of a button.
Simple VAT report providing your figures for SARS/e-filing.
Builds an easy cash flow template that you can use for budget and forecast changes.
For Your Accountant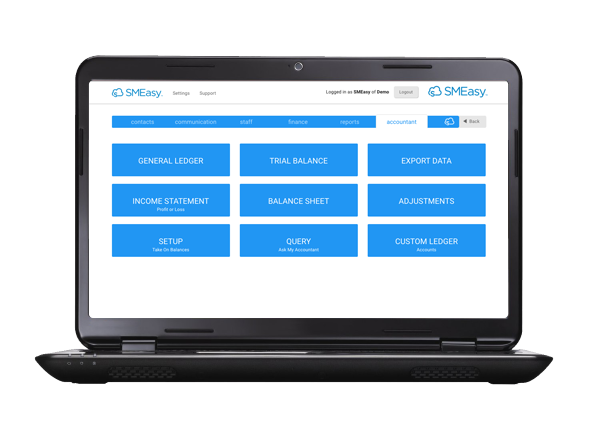 The Accountant dashboard is primarily for your accountant's use.
Your accountant does not have to pay to access your financial information; you simply generate a user login for them (remember any additional user logins are free).
SMEasy saves you money on bookkeeping costs, as you are now able to enter your slips in a way that you can easily understand, and the system then gives the information to your accountant in the way they need to receive it.
It gives your accountant all the information they need to generate your annual financial statements and monthly management accounts.
They can export your general ledger, trial balance, income statement and balance sheet information in CSV format, which can then be imported into whichever accounting system they use to generate financial statement packs.
Being an online system means your accountant can access your information remotely, from anywhere at any time, saving you both time and money.
Easy System Setup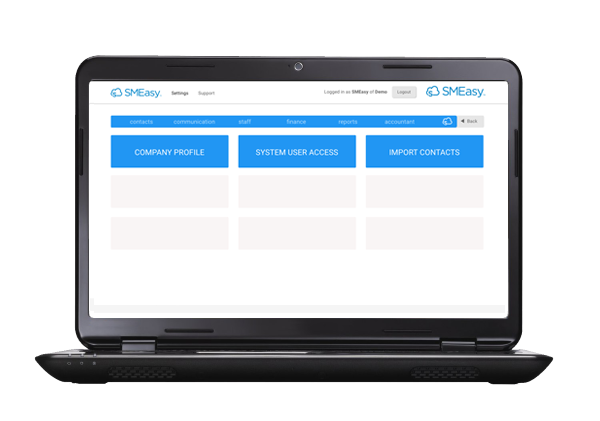 Your Company Profile allows you to capture all the information relating to your company: business name, trading name, registered date, company contact details, tax information, bank account details and your quoting/invoicing numbering system.
You can easily import your company logo so that it appears on all your quotes, invoices and payslips.
Add new users and set the level of access any new users will have via the System User Access button.
Import contacts from your old accounting system or your Outlook contacts via the Import Contacts button.